Profile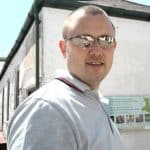 Al Bartlett
Comiserations to Emma and Omar in the final three - Congrats to James on winning.
Curriculum Vitae
Work History:

I began my work career when I started an engineering apprenticeship with a company called Mitsui Babcock. Their main business was to maintain Power Stations to make sure that they always worked efficiently. This took four years to complete and was great fun. In 2000, I joined the Royal Air Force as an aircraft engineer on Air-to-Air refuelling tankers and then on to the C-17 aircraft in 2006. I left the RAF in 2011 to join The UAE Air Defence as a civillian aircraft engineer on the Boeing C-17

Current Job:

My job title is: Lead Airframe and Air Propulsion Engineer – I make sure that all of the aircraft are ready to fly when needed and any problems are sorted out as quickly as possible.

Employer:

I currently work in Dubai for The United Arab Emirates Air Force and Air Defence Force.
My Work

I work as an Engineer on one of the world's most advanced cargo aircraft – The Boeing C17 Globemaster.

Read more

The aircraft is very special and has some very unique features – It can land, and stop on an area the size of a football field and it can also reverse uphill!!  It can be refuelled as it is flying (in flight) so potentially it could fly all the way around the world without landing!

Watch this clip of the C17 stopping very quickly and then reversing:

The aircraft has many different systems onboard and it is my job to fix them when they go wrong – sometimes it may involve just flicking a few switches or, like when your computer freezes, it is as simple as turning the aircraft power off and then back on again.

Sometimes, the jobs will involve taking things to pieces and getting oily and dirty – it could be the air conditioning, the fuel system or the hydraulics. When the aircraft needs to have it's wheels changed, it raises itself off the ground without needing to use a jack like you would on a car or van – The aircraft is very clever.

We use manuals to tell us what to do, like a giant instruction book to show how a certain system works.  It can be very complicated sometimes and it's not unusual to see lots of engineers all scratching their heads because we are totally stumped!  We normally get there in the end though.

The aircraft carries some unusual cargo's sometimes which we help to load onboard but you can read more about that in the 'My Typical Day' section.

This shows the pure size of the aircraft!

My Typical Day: Every day is different – There is no routine – Tomorrow I could be removing one of the engines, the day after I could be loading a helicopter or tank on to the aircraft.

Read more

Every day presents a new challenge, no two days are the same – its what makes my job interesting.

Check out this video of an 'air-drop'

The aircraft that I work on can be used to transport all sorts of different cargo's right around the world – its not parcels and boxes you know, in the last month we have transported aid packages to people in Eastern Europe caught up in the severe winter and also transported one hundred and fifty meerkats to their new home in Morocco – Simples!!

Simples!!

What I'd do with the money

It would by no means be easy, but i'd try to let you be a pilot for an hour with a group booking on a flight simulator or we will set up our own in your classroom- it could be a Jumbo Jet or one of the huge Airbus A380's!

Read more

I have worked on, and had the chance to fly on many aircraft and have watched take-off's and landings from the cockpit.

I will use the money to set up our very own flight simulator where everyone will get an attempt to land at your local airport.  We will learn how to:

– Start the engines

– Take off

– Fly as high as you like

– Navigate to your local airport

– Land the aircraft (hopefully without crashing!!)

Unfortunately, £500 is not enough for us to hire our own aircraft for the day but we'd have our very own flight simulator that your school or college could use for years to come and hopefully let you learn all about aerodynamics and the priniciples of flight whilst flying your own Jumbo Jet.

The view from the cockpit of our flight simulator.

My Interview

How would you describe yourself in 3 words?

Inquisitive (I like to know whats happening), Happy (I enjoy my work) and Busy (I'm always doing something, i can't sit still!)

What's the best thing you've done in your career?

Decomissioning Aircraft – In 2005 a team of engineers was selected to cut up some aircraft the the RAF no longer needed – It was great fun cutting off the wings!!

What did you want to be after you left school?

I knew I wanted to be in an engineering job of some sort but never really knew which one – I ended up in Aircraft Engineering and I don't think I could have made a better choice.

Were you ever in trouble at school?

Not really – I never skipped school because I enjoyed it – however, i was always being told off for chewing gum in class. No matter what excuse I came up with, the teachers always outsmarted me!

Who is your favourite singer or band?

I don't really have a favourite band or artist – If i hear a song I like (it may be in a film, on the radio or on a tv advert), i'll download it and it goes on to my IPod

What is the most fun thing you've done?

Hang-gliding – I'll never know what makes me want to jump off a perfectly good mountain!!

Tell us a joke.

A man is watching tv at home when there is a knock at the door. He opens the front door to find a snail on the doorstep which he picks up and throws to the other end of the garden. A year later there is another knock at the door. The man answers to find a snail on the doorstep once again. The snail says "what was that all about?"
---