Profile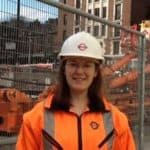 Ivanka Brown
I'm learning all about badgers and what to do if they appear on a site we want to build on
Curriculum Vitae
Work History:

I've mainly working in London, but have also worked in Melbourne, Australia, for a few months.

Current Job:

Project Manager for an earth stabilisation project on the Metropolitan Line

Employer:

I currently work for Mott MacDonald, but I am seconded to London Underground for a few months
My Work

I am a geotechnical design engineer who has stabilised embankments, created a stable base for electronic traffic signs and designed walls for Victoria Station Underground's new ticket hall.

My Typical Day: I work on projects, so my typical day depends on the stage of the project, e.g. optioneering with the client, calculating the capacity of a wall to withstand earth pressure or visiting site to see how construction is coming along.

Read more

At the proposal stage, my team talks with the client who may want to build something new or to refresh or upgrade something that they already have. We help the client to decide what he wants down and what quality/environmental aspect he wants to buy. For example, will it be hidden from public view so it can have a lower finish or will the public pass it everyday and we want it to be a work of art too. 

Once we have an idea of what the problem is – we come up with some options to solve it – often called concept design. We also do a ground investigation to find out what materials we are working with. This is different to concrete and steel as a material because you never know exactly what you're going to get before you dig in. After some sketching and brainstorming we provide several options to the client along with recommendations on what we think is best. For example, the shape of the ticket hall for Victoria Station and the height of the space as well as what the walls are made of (we decided concrete).

The client will pick their favourite solution and we start detail design. For Victoria Station, this will include the thickness of the walls and how it will be constructed – e.g we need to know the excavation machines can sit at the  top of the hole and reach down to excavate without falling in.

The next stage is pretty exciting – we get to build it! There are plenty of things we need to do before we get a digger in and most of it is paperwork. We have to speak to the council to get permission to make noise and dust, to divert traffic and we have to provide the contractor (who will do the physical building work) with all the safety information we have (e.g. whether we expect hazardous materials to be dug up).

The last stage is to make sure we have drawings of everything we have built and any maintenance requirements fully reported. Some structures are designed to last 120 years, but only if the maintenance works is carried out.

What I'd do with the money

This probably has to be the toughest question – there are so many worthy causes.

Read more

I think that the most effective way to use the money would be to provide it as prize money for an engineering competition.

I look to get involved in STEM activities, but find there is little desire out there for a geotechnical engineer as it is not a very well known career (I used to call it the secret profession as I really enjoy what I do and not many people seemed to have heard of geotechnical engineers!). However, the Institution of Civil Engineers have some great projects on the go, for example supporting – http://www.thebigbangfair.co.uk/home.cfm and Engineering Your Future career days.

I have helped out with an Imagineering Club in the past (http://imagineering.org.uk/clubs/information/) and would love to do it again, so if I win the money I will approach my local primary school, buy the kit for them and be available to help out practical building and theoretical engineering questions!

Maybe there are some suggestions out there..
My Interview

How would you describe yourself in 3 words?

Friendly, helpful and lively

What's the best thing you've done in your career?

Supervising construction of something I designed is pretty special – it makes you proud to have spent all those hours with the calculator/computer programme!

What did you want to be after you left school?

An engineer :)

Were you ever in trouble at school?

Yes, generally for talking too much

Who is your favourite singer or band?

Muse

What is the most fun thing you've done?

Learning to pick (the non poisonous) mushrooms in the Carpathian Mountains and then eating then off kebabs cooked on a barbeque

Tell us a joke.

I love jokes – am going to have to think about this!
My profile link:
https://transportm12.imanengineer.org.uk/profile/ivankabrown/
---